Prayer Corner
Visit the
Prayer Corner
for more daily readings, prayers, and more.
Epistle Reading:
Gospel Reading:
You are viewing the Old Calendar Readings. View the
New Calendar
Spiritual Reading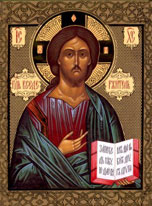 The Feast of Holy Pentecost is celebrated each year on the fiftieth day after the Great and Holy Feast of Pascha (Easter) and ten days after the Feast of the Ascension of Christ. The Feast is always celebrated on a Sunday.

The Feast commemorates the descent of the Holy Spirit upon the Apostles on the day of Pentecost, a feast of the Jewish tradition. Read more...